IQOYA SERV/LINK: The most powerful AoIP codec in the world
Distribution – remote broadcasting – Infrastructure – Audio-over-IP
s
ince 1985, Digigram has innovated in the development of sound processing software and hardware. From the famous PCX3 to its solutions for SIP infrastructures, discover 35 years of history at the heart of this company on the border between IT and audio.
SERV/LINK: one Rack Unit. No compromise.

In 2009, Digigram invented the first stereo audio codec dedicated to transport over IP networks which natively integrated the redundant streaming function on two separate networks.
Always at the forefront of research, Digigram sensed the need to go further in the design of its codecs. In order to develop a tool that would bring an indisputable advantage to the broadcaster, Digigram put the "user" above everything else. 
While radios already offered several simultaneous audio programs, Digigram chose to propose a codec with high channel density in only 1U. This codec had to manage talk-back channels and commentaries via IP. It had to support remote broadcasting of programs between remote studios and generate multiple WEB radio streams for CDNs. This led to the creation of IQOYA SERV/LINK, an extremely reliable and compact codec. 
This new generation codec was the first IP audio codec in the market to offer as many channels in 1U. IQOYA SERV/LINK accommodates Digigram's professional audio cards and relies on the Fluid IP™ streaming engine developed by the brand. It is available in several versions with different format compatibility: MADI / AES67 / AES / EBU / DANTE / Analog.
The functional scope of the IQOYA SERV/LINK was then extended to support MPEG-TS streaming, followed by applications using DVB Audio transport and then for simultaneous live remote broadcasting applications.
In the "remote broadcasting" configuration, it is the only IP audio codec in the market capable of managing up to 64 mono or stereo full-duplex IP streams, regardless of the audio encoding format and the audio connectivity.
In the "program distribution" configuration, it is the only IP audio codec in the market which supports up to 128 mono, multiple-format, input and output channels with the possibility to simultaneously encode, decode and transcode IP audio streams.
Two redundant hot-swappable power batteries and the 1 + 1 redundancy functionality make the IQOYA SERV / LINK a very secure and reliable, program distribution (WEB radios, DVB Audio, FM) and remote broadcasting (commentaries, talk-back channels, inter-studio links) codec.
For more than 10 years, Digigram's IP codecs have been used for the distribution of radio programs. More than 10,000 IQOYA are currently in operation 24/7 all over the planet.
They are known for their reliability and versatility, as well as for the resilience of the audio connections they enable. Digigram has put all its know-how and passion to perfect its codecs IQOYA X/LINK and IQOYA SERV/LINK ranges.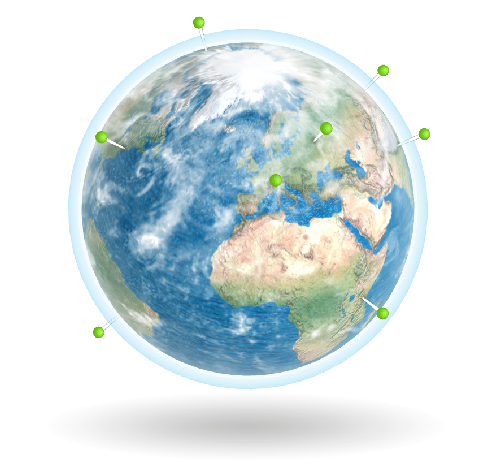 Bridging LAN Audio to external WAN: Security is key
Remote broadcasting, on-field coverage, live game commentary, audio distribution to transmitters or web radios – the audio production environment has multiple forms. These streams traditionally travel through dedicated analog/AES-EBU audio infrastructures. Those legacy infrastructures use audio codecs to interconnect the audio world with the Wide Area IP network – among which is Internet. Within a traditional company IT infrastructure, codecs are designed to remain in the so-called DMZ, the first security layer and farthest possible 'exclusion zone' from the company's sensitive data – the latter being lodged into a 'privileged zone', a deep layer heavily protected by firewalls.
Simplifying and Reinforcing a DVB multiplex generation workflow with only 2 AoIP codecs
RCF is a network of Christian associative radios, which includes 64 stations in France and Belgium, followed by 630,000 listeners every day. It is the 1st independent generalist radio network of proximity in France. RCF offers local and national programs, implemented by 300 employees and 3000 volunteers, and is available in 5 broadcasting modes (FM, Mobile, Internet, Podcast and DAB +).The national structure, based in Lyon, generates the national program (20h of program / day) and the local radios broadcast 4h of their own program, according to a schedule common to all the radios.